It has been a busy spring at the Global Water Center (GWC) and we are excited to share with you our work towards ending the global water crisis. Check out this quick update from our team:  
GWC Shares our Efforts at the All Systems Connect Symposium at The Hague
Earlier this month, GWC team members joined over 700 water, sanitation, and hygiene (WASH) organizations and implementers from around the world at the All Systems Connect Symposium.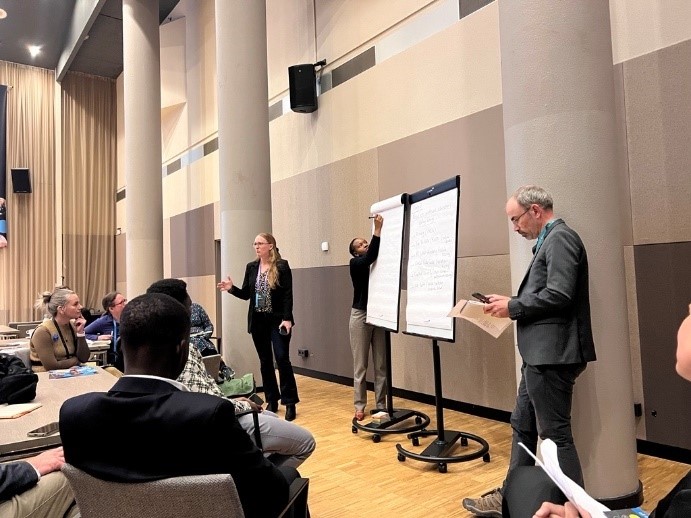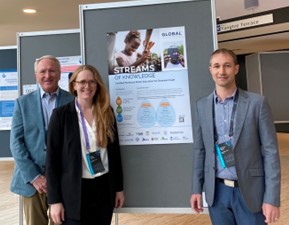 GWC's Eileen Jarnholt presenting at the All Systems Connect Symposium.
GWC's TJ Johnston, Eileen Jarnholt, and Benjamin Filskov at the symposium.
Presenting alongside Rural Water Supply Network (RWSN), Eileen Jarnholt shared our WASH sector training efforts including our virtual Solar Powered Water Systems courses.  Additionally, we were able to share a poster presentation of our Water Curriculum Initiative in Ghana – a collaborative effort with the Commission for Technical and Vocational Education and Training (CTVET) and over a dozen other partners.
We look forward to continuing to collaborate with the WASH sector professionals that we met at the symposium.
GWC Participates in the Rural Water Supply Network (RWSN) Mentoring Program
We are pleased to support and participate in the Rural Water Supply Network (RWSN) mentoring program. It kicks off this month and will connect 200 water sector mentors and mentees.  The program presents an opportunity for water sector professionals to learn from each other and to progress in the sector more rapidly.
Many of the participants completed GWC's Solar Powered Water System courses that are provided in English and French.  We look forward to hearing reports about what is learned and shared. To find out more about RWSN and the mentoring program visit RWSN's mentoring website.
More WASH Sector Professionals Complete Our Solar Powered Water System (SPWS) Virtual Course 
Last month, participants from thirteen different countries completed our eight-week SPWS Design Course.  Our SPWS courses are interactive, and web-based with an instructor-facilitated learning environment that follows best-in-class practices. It is encouraging to learn from post-course surveys that most participants are more confident in their knowledge of water systems after completing the course.
Designing Solar Powered Water Systems is the second of two courses we designed in collaboration with CAWST (Centre for Affordable Water and Sanitation Technology), UNICEF, and Water Mission. This course, delivered by Water Mission staff, had a 50% completion rate of enrolled participants. While similar WASH sector courses average 20% completion rates. Fantastic job to all those who participated in the French course!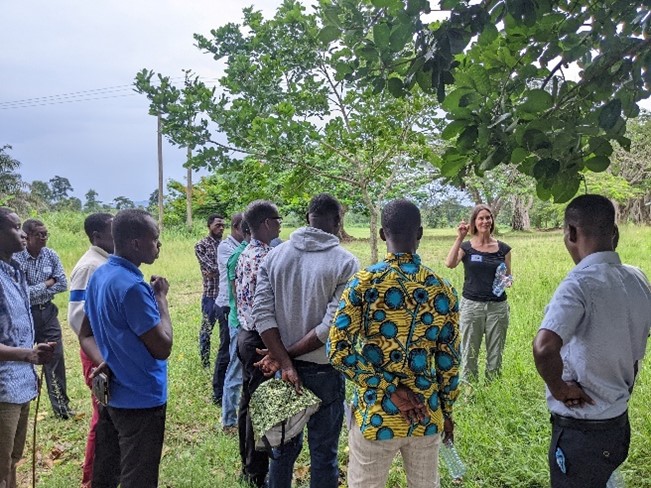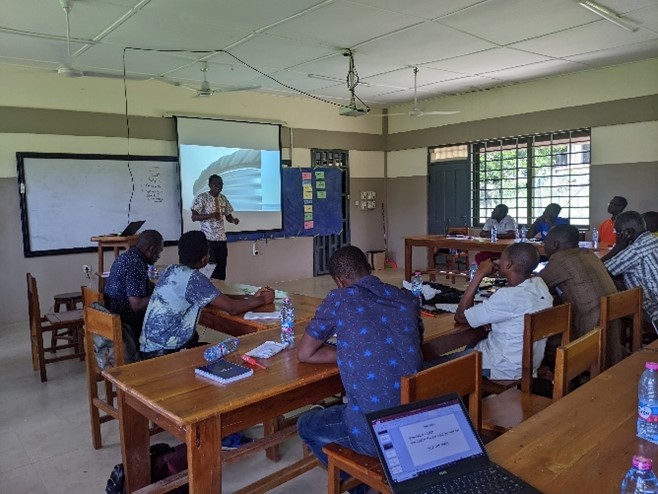 Training of Trainers is now underway with our Ghana Water Education Project 
This week, Lisa Mitchell, our Director of Learning Services, traveled to Ghana to kick off the Training of Trainers event with our partners and our Technical and Vocational Education and Training (TVET) Services. 
The training is taking place at our pilot school, Saint Paul Technical School in Akyem Kukurantumi.  Prior to the training, we worked with our partners to establish a water laboratory.  The lab equipment includes pumps and water quality testing stations to allow students to test their knowledge in practice.
This is a standards-based certification program and students will be equipped with the skills and experience to provide safe and reliable water systems. The program is scheduled to be rolled out to all students in January 2024. We look forward to future training events this year and monitoring the impact of education and training on access to safe water in Ghana.
Thank you to the Grundfos Foundation(Poul Due Jensen Foundation) for funding this project and to all our partners and collaborators listed below.

The Global Water Center is an international organization accelerating the end of the global water crisis through collective action, and best-in-class training and support services. Together, we can reduce the number of people who lack access to safe water from 2 Billion to 0 in our lifetime.
Safe water saves lives.