Born out of Water Mission, a best-in-class water systems implementer founded in 2001, the Global Water Center (GWC) was first conceptualized by George and Molly Greene in 2010 as a way to collaborate with other Water, Sanitation, and Hygiene (WASH) organizations to share best practices in order to accelerate the end of water poverty.
Officially founded in 2020, we are emerging as a strategic leader of "collective action" within the WASH sector. We're changing the equation of water by leveraging knowledge and relationships to exponentially solve water problems globally.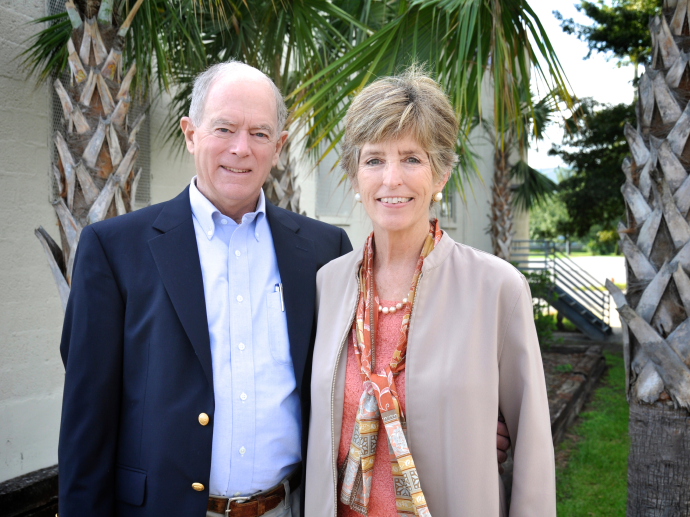 We are the collaborators and impact makers. Meet the team that leads our day-to-day operations.
George Greene, lll, PE, PhD
CEO, Founder
As the Co-Founder and Executive Chair of the Global Water Center, Dr. Greene oversees the strategic direction of the Global Water Center and is actively involved in strategic planning and the day-to-day development of Global Water Center initiatives. In 1981, Dr. Greene founded General Engineering Laboratories, which he led to become one of the largest privately-held environmental laboratories in the United States. After learning about the global water crisis, Dr. Greene and his wife Molly founded Water Mission, a Christian engineering nonprofit which has brought technical excellence to the safe water sector for over twenty years. Dr. Greene is deeply involved in the life of St. Phillips Church in Charleston, SC, and enjoys flying aircraft and spending time with his family.
Thomas Johnston, BS Forestry, JD Law
Chief Operations Officer
TJ draws on the leadership expertise and the relational development skills he has acquired as an environmental lawyer, Anglican Bishop and from a life spent leading nonprofits. TJ's leadership is focused on supporting organizations that serve those who live on the margins physically, socially, economically and spiritually. As often as possible, you will find TJ enjoying the Lowcountry of South Carolina either on the water or outside with family and friends. There is nothing quite like the ebb and flow of the tides fused with the Lowcountry skies.
Senior Director of Operations,
General Counsel
Jeff serves as the Senior Director of Operations and General Counsel for Global Water Center. Starting first as a volunteer upon the formation of Global Water Center in early 2020, Jeff joined the staff in 2021. With over three decades of experience in business, real estate, contract, and intellectual property law (both privately and in a large corporate environment), he now leads the day-to-day operations of GWC. Jeff received a botany degree from Duke University and focuses his free time on his church's men's and backpacking ministries.
Director of Program Management
Lillian is the Global Water Center's Director of Program Management. In this role, she provides cross-functional leadership, management, and communications to support operational key performance objectives. Lillian received her Master of Business Administration with a focus on Sustainable Development from Marylhurst University and a Bachelor of Arts in Historic Preservation and Community Planning from the College of Charleston. Lillian has over 18 years of experience focused on program development and project management across disciplines. When she is not flying off a mountain in her hang glider, you may find her paddle boarding with her dogs or swinging a hammer volunteering with Habitat for Humanity.
Senior Director of Strategic Initiatives and Collective Impact
Benjamin is passionate about serving marginalized people with safe water and brings 10+ years of field experience leading financially sustainable, safe water project implementations for people in rural communities, refugee camps, emergencies, and hospitals in Africa. With his ten-year Grundfos R&D background blended with building partnerships from his time stationed in Tanzania for Water Mission, Benjamin helps merge innovative water technologies with humanitarian and development programs. By catalyzing collaboration on strategic initiatives, Benjamin serves at the Global Water Center in providing safe water to populations in need. With his wife and three children, Benjamin lives in Copenhagen, Denmark.
Eileen Dyer Jarnholt, PhD
Project Manager, Ghana Water Curriculum
Eileen's background includes a PhD in international development studies with a focus on sustainable development in East Africa. Eileen has experience working with project management, coordination, and grant writing, as well as teaching both at the preparatory school and university level. Her education experience combined with understanding of the non-profit development sector is pivotal in managing the Ghana Water Curriculum Project at Global Water Center. Originally from the Southern United States, Eileen resides in Denmark with her husband and children.
Controller
Ed is the Controller for the Global Water Center. He manages the financial activities, the donor support services and the customer relationship management software, Salesforce. Ed has over 20 years of working for non-profits as a database administrator, QuickBooks accountant, grassroots organizing, and email marketing. He holds a Bachelor of Science Degree in Accounting from Western Governors University. Ed recently moved to the Charleston, SC area and enjoys live sporting events, cooking, reading, hiking, and any time on the beach.
Senior Director of Learning Services
Lisa joined the Global Water Center in October, 2022. She has over 20 years of progressive experience designing and delivering training and supporting capacity strengthening initiatives in Latin America, Africa, and Asia. She is dedicated to increasing the impact of WASH organizations and helping people reach their potential. In her free time Lisa enjoys swimming, pottery, and spending time in nature with her husband and son. She speaks English & Spanish. Lisa lives in Calgary, Canada.
Pamela Crane-Hoover, MS, PhD
Senior Director of Technical Services
Pamela serves as the Senior Director of Technical Services for the Global Water Center. Pamela has nearly 20 years of experience helping to design, set up, and grow sustainable water, sanitation, and hygiene (WASH) programs, as well as the systems that teams need to manage and support these programs. Her work has ranged from rural programs focused on behavior change to peri-urban micro water utilities focused on using local businesses to provide safe water delivery. She has her MS in Environmental Geology and her PhD in Water Resources from the University of Notre Dame. Pamela lives on the Central Coast of California with her husband, Ben, and two young boys where they love hiking, sharing meals with friends, and relaxing by the ocean while their boys dig holes and build sandcastles.
Advisors and Associates are essential to the Global Water Center's collective impact. Advisors are subject matter experts in business, development, data analytics, engineering, and the WASH sector. Our Advisors and Associates also share our mission and values to scale capacity and impact through the professionalization of the WASH sector.
Andrew Armstrong, PE, PhD
Global Lead, Data Integrity at Uptime Global
Andrew oversees data verification and validation at Uptime Global. He also coordinates technical assistance activities with partners to enhance data integrity. Previously, Andrew spent a decade working for Water Mission, where he led a global advisory team responsible for sustainable service delivery, behavior change communication, and monitoring, evaluation, and learning. He has also led the development and delivery of technical training programs for rural water professionals at the Global Water Center. He holds a MSc in Environmental Engineering and a graduate certificate in global health from the Water Institute at the University of North Carolina at Chapel Hill, a BSc in Mechanical Engineering from Clemson University, and is a professionally licensed environmental engineer in the United States. Recently, Andrew earned his PhD in Geography and the Environment from the University of Oxford, where his research examines the drivers for revenue generation from user payments for rural piped water services.
Senior Learning Advisor
With extensive expertise in applied instructional design in the water, sanitation, and hygiene (WaSH) sector and higher education, Dr. Robertson officially joined Global Water Center as a Senior Learning Advisor in 2023. Previously, she worked for the Centre for Affordable Water and Sanitation Technologies (CAWST) where she collaborated with GWC on the design and development of two online solar-powered water systems courses. Dr. Robertson's educational background includes a doctorate in Instructional Systems Technology from Indiana University and a master's degree in Distance Education from Athabasca University. Now in semi-retirement, Dr. Robertson continues to pursue her passion for WaSH capacity development by working remotely from her cabin in British Columbia where she enjoys hiking, golfing, painting, and spending quality time with family and friends.
Director of Program Development at Water Mission
Originally from South Africa, Lara serves as the Sr. Director of Program Development for Water Mission, leading a team of subject matter experts in WASH service delivery models, financing, behavior change communication strategies, and monitoring, evaluation, research, and learning. With 10+ years of professional experience within the WASH sector, Lara has provided both technical and program support in Sub-Saharan Africa, Southeast Asia, Latin America, and the Caribbean. Lara holds a master's degree in both Higher Education and community-based Conflict Resolution and Reconciliation.
Software Product Manager at Assetas
Tom is the co-founder of Assetas, a technology company, and has over 25 years of experience in the energy sector. His main interest is using technology to tackle grand challenges, such as pollution management. He's proud to have stumbled into the 'safe water' sector and is looking to contribute.