Our Vision is that all people have sustainable access to safe water.
Global Water Center (GWC) is accelerating the end of water poverty through cross-sector collective action. We aim to strengthen and scale the work of Water, Sanitation, and Hygiene (WASH) organizations with clear standards, contextualized training, system monitoring, and inter-organization collaboration. We are committed to ensuring longevity in water systems and securing safe water for all. Reducing the number of people who lack access to safe water from 2 Billion to zero.
The Context for the Mission of the Global Water Center
Since 2000, the world has advanced toward the goal of safe water for all. In 2020, 74% of the world's population had access to safe water. This is 10% more with access than two decades previous. Yet, 25% of the global population still lacks a safe and secure source of water. This is a staggering global crisis.
There is however an emerging crisis, even though the world had thought that we had begun to solve the previous ones. Shockingly, over 30% of the global rural water systems are failing at any given time. This means that hundreds of millions of people are once again left without access to safe and secure water, leading to waterborne diseases that claim up to 829,000 lives every year, missed opportunities for education for young girls, and families trapped in extreme poverty.
A 30% failure rate is also incredibly expensive for all involved, from funders to implementers to communities. Eleven billion dollars ($11.1B) are wasted every year due to failing systems. (Source: The Costs of Meeting the 2030 Sustainable Development Goals on Drinking Water, Sanitation, and Hygiene). We are catalyzing a collective action initiative throughout the global WASH sector to increase the implementation of safe water projects and accelerate the race to end the global water crisis.
Improving and sustaining the performance
of a water system is transformative over
time.
The money invested is exponentially more
efficient and has a long-lasting impact.
Sustained transformation at scale demands
collective action among many people,
organizations and partners.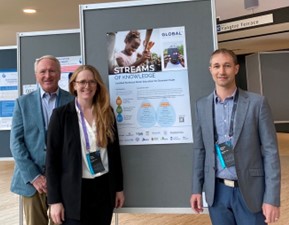 It has been a busy spring at the Global Water Center (GWC) and we are excited to share with you our work towards ending the global water crisis. Check out this quick update from our team:   GWC Shares our Efforts at the All Systems Connect Symposium at The Hague...